Our passion for Dent Repair
It is special repair method that it cannot(or never) return to the original again when you have a big mistake once since there is major premise that it must leave a coating of original paint. This is a "manual" by human in dent repair, you must have a wealth of skills and sufficient experiences.
Although it might be exaggerated, I have captured the equivalent to "doctor of orthopedics" the position of the dent repair technicians in our company. This is not easy work to do at all, and for example, what would you say when you asked which one of doctors you would like to have in case of surgery… "The doctor who has just finished becoming the doctor" or "Experienced skilled doctor" You already know the one you want.
As long as it is "manual" by human, it is natural that difference would appear to technical capabilities. Since its formation in trust Dent Group, we take seriously this "important realty" and have spent time and an effort without regret to increase the technical capabilities. We believe to make an effort working to improve the technology further without changing its policy in the future.
Policy of TRUST DENT Group
What is our root is "Hot soul as a craftsman" and "World-class skill" that group representative Mr. Oshimi has learned its technique at the best place in U.S.A. and Canada. He is a pioneer that joined "the world tournament for the first time as Asian" and impressively resulted out in 5th place at International convention of Dent Repair took place Orland, USA in 2005.
The members of its group mastered dent repair technique that works well in international with in response to strict technical guidance direct transmission of a secret from father to only a son manner from Mr. Oshimi. Our goal is to spread and establish "real dent repair technique in Japan inherited from Mr.Oshimi, which is different from previous Japanese Dent Repair".
We are all united in full fling toward it. We would like to keep in mind that even customers of 100 people from the perspective of our point of view, and to say that is a one-to-one from the perspective of the customer's point of view, and it is our long-cherished ambition to be able to respond in good faith at all times for each customer. It will also be pleased to provide a finish that can be satisfied on its own, is likely to appropriate remuneration commensurate with it, that it will continue working to improve the skill further without having to neglect the devotion of everyday life. This is the policy of our group.
7 preferences of TRUST DENT Group
Professional shop specialized in dent repair that purveyor to new car dealer

Since TRUST DENT Group's "world class skill" has highly evaluated by professionals from auto industry, we get many job requests from new car dealers with strict quality control since its inception.
Providing the best advice from customer's point of view

We would like to give you advice and suggest you the best way to repair with your understanding and satisfaction eventually. We also talk about condition of your car and your budget with opinions of the professional involved in the dent repair.
To limit the number of construction in a day. The construction with full force in one by one to give your vehicle

We limit the number of construction in a day due to providing the best finish to our customers. We work on your car with full force, and you will be satisfied.
Providing an explanation before the work and thorough quality check after the work

Before the work of a dent repair, we will carry out sufficient explanation at TRUST DENT Group. "Situation of actual dent", "How we are going to work on it", "How long it takes to repair" and "How much is the cost" etc…. We will give customers sufficient explanation till they understand.
Working inside of pit for offering the highest quality

We are allowed only correspondence working with your visit to a general visitor due to offering the best quality that is not only customers but also the technicians themselves can be satisfied.
By business trip work, a possibility of becoming the work of the outdoors is high and a possibility occasionally "work may become rough" by added excessive things other than work, such as the weather and worries about time, is also considered. I hope to understand the policy of this group that suitable environment is required, in order to do the highest work.
The thorough attention to the "distortion"

In the TRUST DENT Group, we are performing quality control thorough using the original quality checking method so that a finish of a world level can be offered to customers. When its own car is taken out to trade-in, I do not do work which has repair marks pointed out from assessment officer. The sides (doors etc.) of a car are being checked everywhere, the check from a cross direction, above, and the front, and the level surface (hood etc.) from a full-size degree and above one 360-degree.
The newest theory of the TRUST DENT Repair is introduced

In the TRUST DENT Group, I have also introduced the newest theory of the TRUST DENT Repair which the representation which has a record of the 5th place of the first International convention as Asian as well as a traditional dent repair construction method built.
TRUST DENT Repair is;

Now, the Dent technicians in the world of the very first rank also took in this theory, and the dent repair industry also rushed into the next generation.
"Distortion of the panel which remains at the time of a finish" which cannot be removed by the conventional dent repair construction method can be removed to a limit.
By the previous dent repair construction method, it is possible to operate orthopedically "difficult "press line portion called impossible" and R (curve) portion."
By the previous dent repair construction method, it is possible to construct "dent made on difficult "frame (bone) called impossible".
By the previous dent repair construction method, it is possible to fix "difficult "aluminum panel called impossible".
An Original Quality Check with a TRUST DENT Group
It cannot be said to be a pro's work if "uncomfortable" no matter where it may check from. Being the check from a cross direction, above and the front, and three directions in the sides (door etc.) of a car, and setting to the level surface (hood etc.) fundamentally, a full-size degree and above one 360-degree. If repair marks are pointed out from assessment officer when a customer takes out his own car at the time of trade-in, after there is no meaning fixed by the dent repair construction method.
As the "method of the check after repair by a dent repair construction method" explaining with a picture below permeates the vehicle contractor, car dealer and end-user, "The low technician of the extreme shortage of experience or a skill level" providing a customer with a random result will be lost.
A goal our company hanging up, it is sure that it will be connected to enhancing the dent repair industry eventually.
By the previous dent repair construction method, from the point of view of a finish, they were "a part of a construction method called sheet metal paint, which is kind of positioning of what we call "light sheet metal paint", now which TRUST DENT Repair is becoming common, the right knowledge that Sheet metal paint and TRUST DENT Repair are completely the repair methods of equal positioning of another field will also be recognized.
I think that it is a mission of the whole TRUST DENT Group to make it do so. I think if you feel the confidence of the TRUST DENT Group which dared to have taken a step toward "Opening standard of a finish to the public" which everyone did not want to break in.
The check method of the dent before repair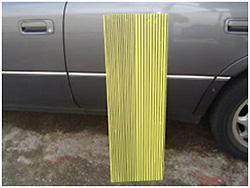 It checks with the light board (it can purchase for hundreds of yen at home center) of such a yellow plastic with a permanent marker by drawing lines.
A size is a standard and it is called a reflector board. It is because yellow board has a reason that lines can be easily seen in white, black, silver and any body color. Even if it draws a line to corrugated paper as substitution, that will do.

Dent is found. If it has dented, a black line looks thick, and a black line looks thin if it protrudes conversely.
The range in which the line is distorted becomes Dent's size.
It is success if the thickness and the interval of the line have gathered uniformly even if it shifts its eye level position in a reflector board after repair. Tip is to take a look toward the bright direction from the dark. A scene is well reflected in a body. (By the picture, the front side serves as a bright direction.)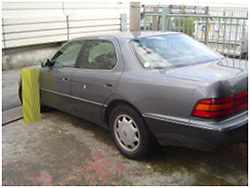 Please detach the position of the reflector board after repair rather than repair before. It becomes easy to find out the distortion.
Usually, although the contractor who makes it check from this angle is the most, it is visible and natural as if it repaired at this angle. What should be checked in this position with close-look is the changes of paint coats, such as an irregular of surface and discoloration.
The check method in this position is to be said that "Distortion remains and that is natural by a dent repair construction method". Please think that it is a check position of the time when it seemed that it does not stick on the result which is not clear anymore" a decade ago already.
As notes that in the case of requesting outwork at a house from a contractor, when doing the check work of a finish, I recommend not carrying out under sunlight in the daytime. It is because a reflection of a scene cannot be seen clearly if it's too bright and it cannot be checked correctly.
A professional technician also tends to overlook especially in white and a silver body color. Since distortion can be seen clearly when it parks at the indoor parking area of a department store, etc if it does not check well here, so please be careful with it.
At our school, in order to maintain the stable quality, "outwork at the house like an end-user" is not recommended to the graduates, unless there is special reason.

If there is no problem with the paint surface, next thing to do is to check its surface (if there is any distortion or not). Please be sure to stand on this angle and distance, and to check on a reflector board in the state where it spaced aslant from a distant view.
Probably, it is good idea before repair to put a masking tape near a dent so that it may be easy to check the original position of the dent.
It is success if the thickness and the interval of the line have gathered uniformly even if it shifts its eyes level in which position in a reflector board.
Since you are being charged, let's have him repaired until you are satisfied if there is some uncomfortable in the original position with a dent merely as much as possible. Why don't you ask for a detail reason if he says "this is the limit of a dent repair". Repair marks will be pointed out by the contractor or assessment officer of trade-in if you are compromised at this moment. Then, don't you think that the meaning of repair by the dent repair construction method will be wasted?
From now on, you should find out if it is not fine with it in this position, which means that it has not been repaired enough. Of course, the view of big dent is also the same.

Let's check it from above and the front at last. If this check is neglected, when a car is parked in a parking lot, sense of incongruity will come out and be worrisome in a reflection of the white line of a parking lot.